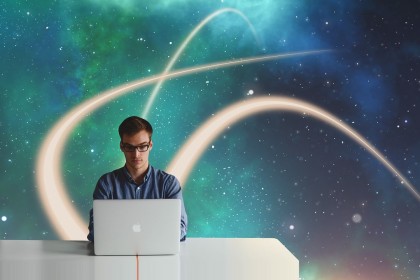 The job of chief technology officer (CTO) can be extremely challenging. Searching for one can often feel like mission impossible, trying to find the right person with the right set of qualities. In today's rapidly evolving business environment, a CTO plays a very central role in ensuring companies adapt to modern technologies. Information technology has impacted virtually all aspects of the businesses. It has changed the way people do business. Communications has improved and the flow of information has been drastically enhanced. Most importantly, information technology has allowed business owners to make fast decisions and save costs. With all these changes, there has been a transformation in the way we perform and complete day to day tasks. Work that in the past was done by different individuals, can now be completed by a machine.
It's the CTO's responsibility to make sure that the company takes advantage of all the latest technological enhancements available, to improve their profit margins and save costs. However, not everybody is cut out to be a CTO. Here are ten of the most important traits that tomorrow's CTOs should have.
BitsNGo - An innovative Enterprise CDN for Startups & SMBs
This content is brought to you by BitsNGO, a global CDN made for startups and SMBs, powered by tier one infrastructure. BitsNGo is truly global, affordable, demands no commitment and includes 24/7 support. Sign up for a free trial now or Request a Demo
1. Business Visionary
One of the most important qualities a CTO should have is foresight. CTOs should have a long-term vision around how they are going to revolutionize the company. They should also be able to construct a clear plan that will get them there in the desired time and budget, making sure the company stays in the forefront of technology-related trends.
2. Quick on his/her feet
Having a vision and a clear plan to fulfill it is great, but CTOs also need to be highly responsive and able to adapt to the latest transformations as quickly as possible (taking the company with them of course). One of the clearest examples of this is the cloud interface. Those who insisted on keeping things locally for a variety of reasons, and generally not move things to the cloud, probably pay a price for it today. Responsiveness and adaptability are extremely important for modern CTOs.
3. Jack of All Trades, Master of Some
They say knowing a little of everything is often better than having one expert skill. This is highly relevant for the role of CTO and unequivocally beneficial for the company and the team. A great CTO will have a diverse hands-on experience having touched multiple types of technological enhancements across various industries. Vast knowledge in many areas, even if not at the same depth helps the CTO expand his/her horizons and develop a better approach to finding technical solutions to complex problems.
4. Networker
CTOs who have a strong professional network can provide great value for their company. When it comes to implementing new technologies, find the best vendors, mediate and introduce relevant people and scenarios, all this can contribute to the company's reputation, and of course help it save time and money.
5. Not Scared of Failure
Failure is a part of the job for any technological officer. CTOs who accept that and live with it peacefully are the ones to grab, because failure is crucial for success. A good CTO knows how to get right back up and keep driving the business forward.
6. Out-of-the-Box Thinker
An out-of-the-box thinker can help save thousands of dollars for a company, as well as contribute to some real differentiation of that company in its market. A great CTO is the one who is not simply following the trends, but is a trend setter himself (or herself). Here is an example of creative thinking: Setting up a content delivery network that's unique to the nature of your company, instead of going with more general options, that don't pose an exact fit, can help you save a lot of money over time.
If you are looking to become a CTO or looking to recruit your next CTO, these are the main qualities and traits to look for. An individual with these qualities will have a better chance to be a top performer as a CTO in today's ever changing tech environment, where technology is expanding and advancing at exponential rates.